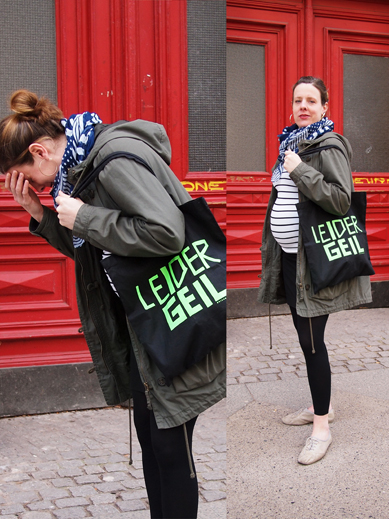 *Leider geil. (= incredibly awesome, Songtitle of the German band Deichkind)
Marie with babybelly in Berlin, Kreuzberg. Maria likes to laugh and does it a lot, especially about herself. She is a designer and has already designed and built some very nice looking kitchens. Right now she is looking for a bigger apartment.
As a stylish pregnant woman you cannot live without …? Nice shoes.
Favorite spot with child? Go for walks along the Landwehrkanal in Kreuz-Kölln.
Favorit spot without child? Haha, well, that does not really work out right now …
How has becoming a mom changed your style? I feel more like a woman and like to wear more and better Make-up but otherwise I actually feel the same.
Dear Marie, we just love your easygoing style, the statement of your bag refering to your pragnancy is great (!) … and we really like your
scarf, your shirt and your leggings.
Photographie, interview & text: Bianca Koczan