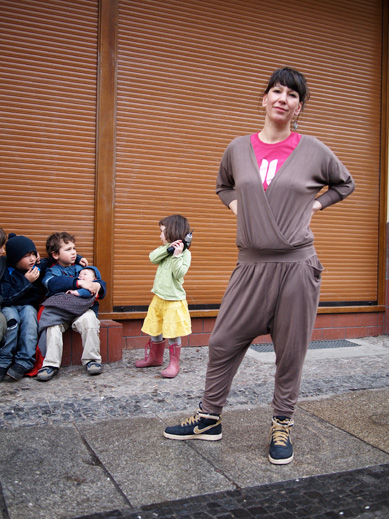 Gila with her 2 sons (3 month and 6 years), her daughter (4 years) and a friend of her children in Berlin Kreuzberg. Gila is a photographer as well as a gifted stylist for hair and make up. When she is not working on letting other people look good, then – especially short after giving birth to her third child – everything is in motion. So we're not wondering why – as an answer to the question, what is going on in your head right now – she just names some of the biggest topics in live: coming to be, passing away, aspects, discipline and family.
As a stylish mom I cannot live without …? My fringe and make-up powder
Favorite spot with children? In the country, in a plane around the world, in a tent beneath the stars
Favorite spot without children? In my mind.
How has becoming a mum changed your style? I buy things more thoughtful, sustainable and over all more online. I sincerly haven't the time anymore whether for endless shopping trips nor for bad quality.
Photography, interview & text: Bianca Koczan