Ich bin verschwitzt, müde nach insgesamt sechs Shootings und froh, dass Calla Henkel Zeit hat, sich mit mir zu unterhalten. Max, ihr artistic partner, schließt die Tür zur TV Bar auf und meine Schuhe kleben in Partysutsche fest. Bestes Geräusch, bestes Gefühl, der gleiche Geruch begrüßt mich wie auch jeden Abend damals, als ich Schichten in Clubs und Bars begann. Damals. Das ist auch nur 10 Jahre her.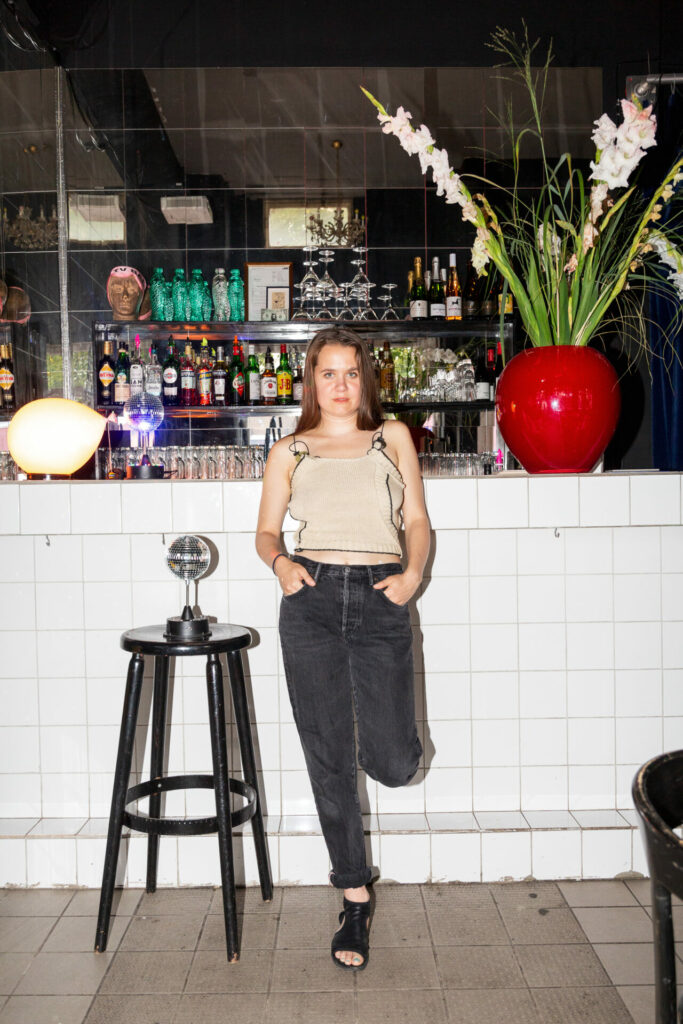 Calla ist ein Jahr jünger als ich, ihr Debütroman Other People's Clothes erschien letzten Sommer. Jetzt können wir ihn auf Deutsch lesen, Kein & Aber war so klug, ihn zu übersetzen und Ruhm für eine Nacht zu nennen. Calla hat Zeit. Nicht nur, um mit mir zu reden, sondern auch für Fotos.
Abends erzähle ich Freunden bei einem grandiosen georgischen Dinner im Batumi in Schöneberg, dass ich jetzt obsessed bin. Von Calla, vom Buch, von der TV Bar, von dieser Zeitreise nach 2009. Über das Theater, über Kunst, mir ist scheißegal, ob ich desperate klinge, ich liebe es, inspirierende Menschen zu treffen, Calla Henkel hat mich überwältigt.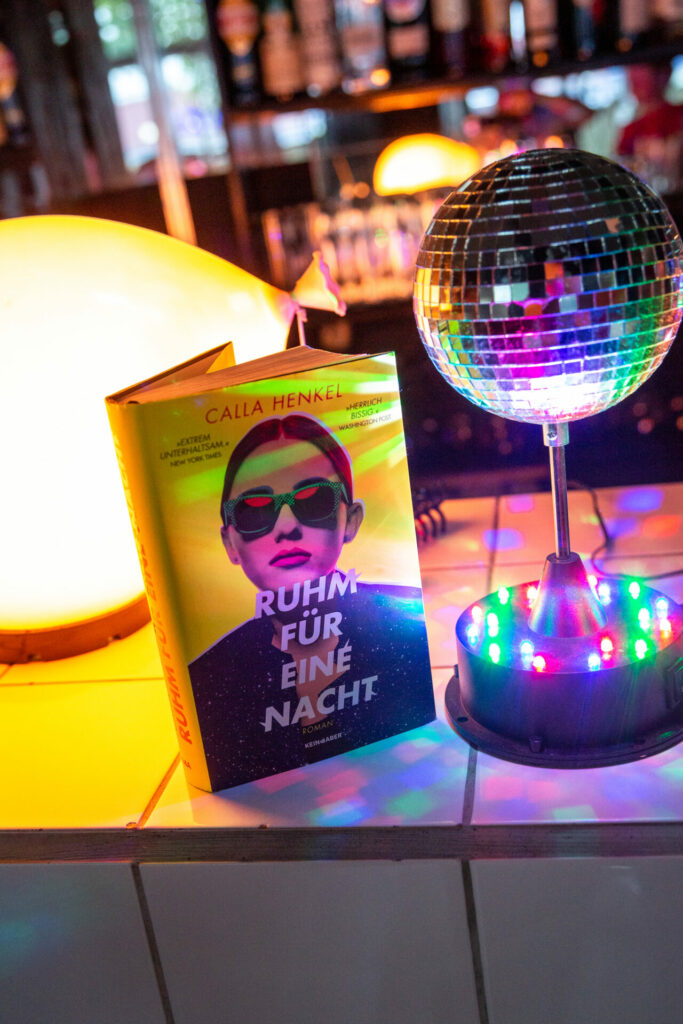 Das Buch basiert zu großen Teilen auf vielen Dingen, die sie erlebt hat, die wir vielleicht alle erlebt haben. Komplette Fotoalben auf Facebook hochladen nach einer Party, Besessenheit von Freundinnen, erste toxische Beziehungen und der erste Winter in Berlin. Sich extrem uncool fühlen, dazugehören zu wollen, die eigene Narrative bestimmen zu wollen. Generation Lindsay/Britney/Paris/Jessica konnte das nicht. Most famously auch Amanda Knox. Auch darauf geht Calla Henkel in ihrem Buch ein: junge Frauen, die ihre Geschichte selbst bestimmen wollen. Hach, Schöneberger Schuld und Sühne auf Drogen, ein herrlicher Trip.
Ruhm für eine Nacht ist erschreckend nah an meinen ersten Monaten und Jahren in Berlin. Ich habe es aufgesogen und verschlungen, es ist schnell, perfekt, zum Schreien komisch und bitterbitterbitterböse gut. Alle Frauen sind Arschlöcher und alle kriegen, was sie wollen. Letzteres sagt Calla Henkel, das erste sage ich. Enjoy.
HSM: Tell me about this bar.
The bar has been open for three years and during the week we film a TV show here. We've been filming on 16mm, so really slowly and there's only four episodes. So basically in the end it is more like a film. It is about the bar, but fictional. The bartenders are hiding from an absent boss, who is watching them, but is not there. In that regard, it kind of relates to the book in a way. He thinks of the bar as a news channel. He gives them texts they have to recite and spew, and it gets weirder and weirder. So this bar has had many lives.
HSM: When did you write this book?
I wrote it when I was at the Volksbühne, we rented a series of spaces and the first one was Times Bar at Hermannstraße and then we rented a theatre. Which we called New Theatre, and it was kind of messy theatre with a store front and we were writing one play per month. Then we moved to the Grüner Salon at the Volksbühne. That was a cyclotronic era of theatre shake down. That was really exciting, and Max and I like really intense moments. So for us, it was like, yes we absolutely want to work here during this time period. But by the time I was done, I was just so burnt out by the questions of German theatre. That's why I wanted to write something that is Pop. I wanted to write something that doesn't deal with Rosa-Luxemburg-Platz or East and West. I wanted to write an airport novel. I was depressed at my parents' house after just an insane year of work and I needed something to do. So I sat down and just started writing about how I got to Berlin on an exchange.
I love thrillers. I think what is amazing about thrillers is that they have a speedboat engine and you can just throw anything into it and carry people through it. I had all of these thoughts about theatre and performance, and Germany and Berlin. I had so much fun putting it in this thriller format instead of Post East German theatre.
HSM: I am going to roll out a red carpet for anyone in this country who dares to write a book that is fast.
Interesting.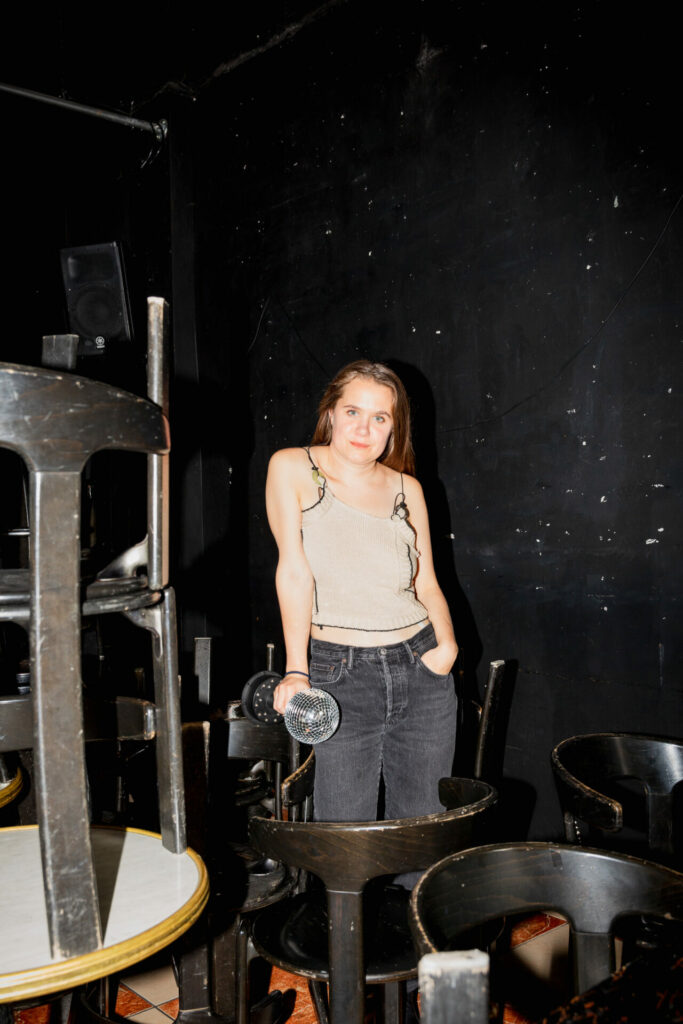 HSM: Contemporary German literature bores me to death 90% of the time. When I heard about your book I thought this could be different. Plus it is roughly about the time I arrived in Berlin so I can relate to Zoe and Hailey. I knew after 3 pages in that I was going to devour it. Why did you come to Berlin?
I was really stupid. I only came here because it was the only program that was open. I did not want to come here. I had no intention in going to Berlin. I just showed up and whatever it was. It was winter and I was like Fuck. But then I really got into it because there is this amazing community of artists that I sort of stumbled into.
HSM: Through school?
No, school sucked because you had to do it yourself and that was the opposite of New York. I met some people at UdK but the reality of what was interesting to me happened outside of school. That was also a big hump I had to get over and what the girls in the book really struggle with, because they come from this hyper-academicized world where your whole world is planned out.
I didn't want to come here but I also didn't want to leave.
It didn't matter if you were young or if you were old or what you were doint. People just hung out and talked. I found that so refreshing and I learned so much so quickly. If you were just around in bars or going to shows you could get to know all the people you were super interested in. New York was so hierarchy and stratus. And it was cheap here.
Max, my artistic partner, was very interested in performance and in Berlin people had time so say 'yeah I'll give you a week to work on this dance thing'. Whereas in New York that's impossible. You're also not going to find an old Lidl where you can set up a theatre in.
So many versions of how I was thinking about working and just the material realities of how people were here. Our first performance was at Tacheles. It was a dance piece. Extraordinary embarrassing but at the same time it feels like another world.
HSM: How did you make money during those years?
I was a nanny. I am still super close with the kids and the mom. I also did odd jobs and then we opened those bars, but my real job was nannying and I loved it. It is also an identity work.
HSM: Same. My nanny kids were in my wedding as the flower girl and the wedding singer for the first dance.
I just went to their bat mitzvah, too. So it was my chance to have a family life through them which was really nice and I am really grateful for that. It allowed me to stay because I was able to connect with them. Often when you are far away you can forget what it is like to be a person.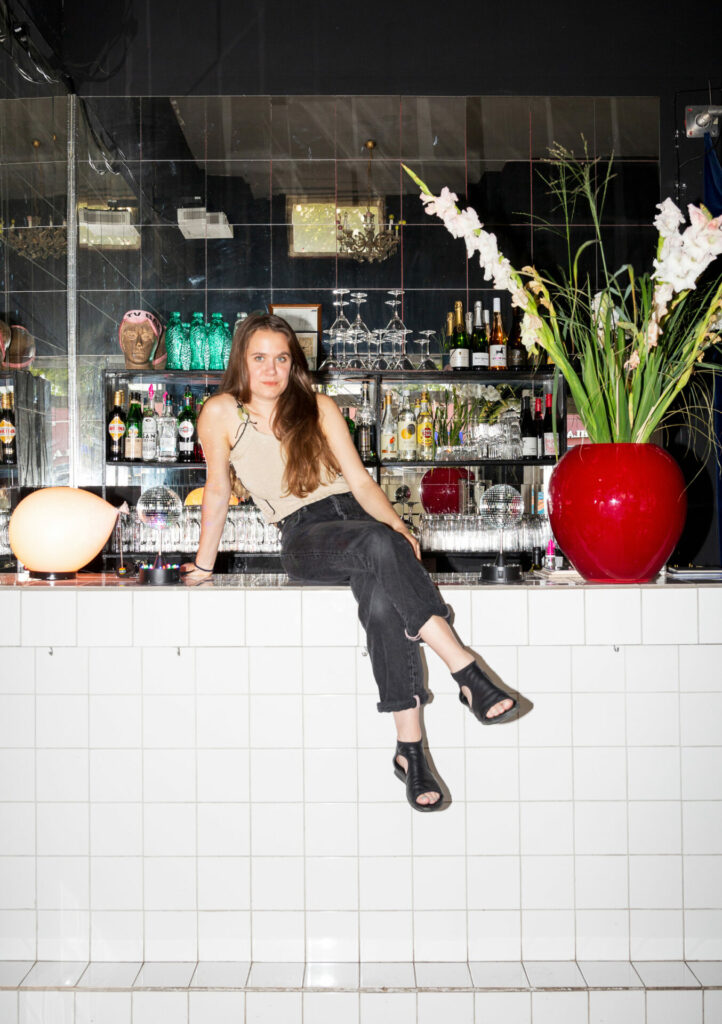 HSM: Who is this book for?
This is going to sound like bullshit but I wanted to write something that really nearly anyone could read. Like it is for and I always write for women.
I am not interested in writing male characters.
It is also a book about coming out and I came out during that time. It is queer and it is open. It is not for one type of person but if I had to pick it would be for a woman.
HSM: How did people respond to the book?
People were just like 'this is me' and 'I feel so seen'. It is this period of the late 2000s of heart beats the knife. There is this uber nostalgia that I was very interested in to harness and use as a type of gasoline in the thriller thing. If you can connect to it makes you really feel it. Maybe that's the answer to who it's for.
I have this group of girlfriends that I grew up with in Minnesota who made me who I am. We had these weird times of putting on clothes. I wasn't a girly girl, but I understood the power and strangeness of that focused alone time that we had together as friends and how that formed us into these identities that we were able to shift and borrow between each other. Kind of like the meta–Spice Girls.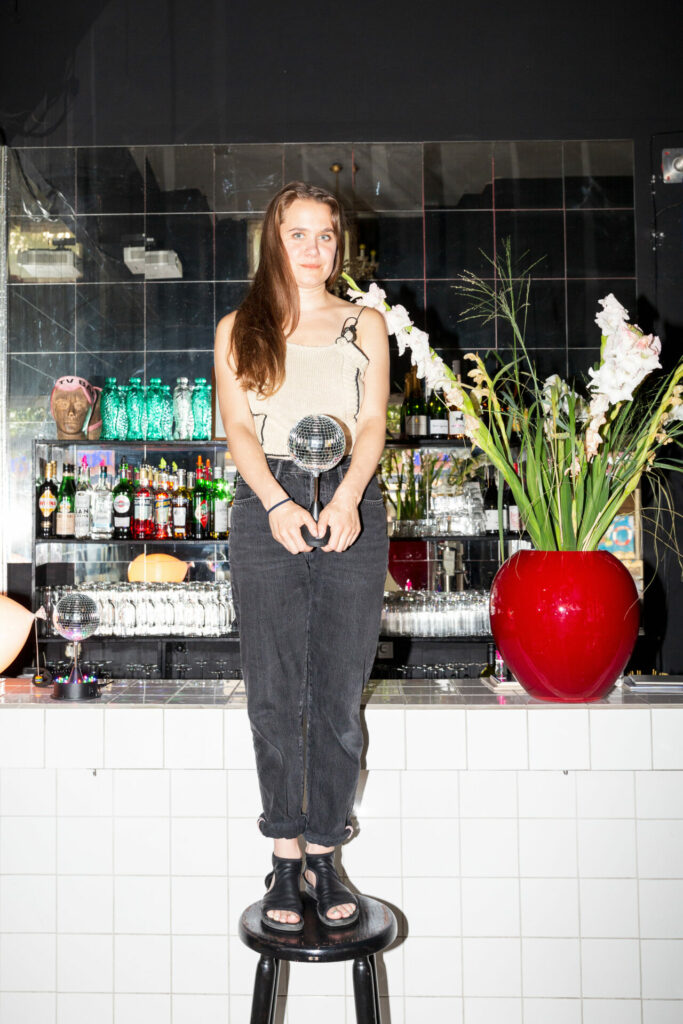 What happens in tight female friendships and how it can slide into toxicity and kaleidoscopic amazingness. Push and pull in female friendships. That time period is where the heart of my writing comes from.
I also moved to Berlin with my best friend Mia. I didn't know she was going to be here, but then she was and she spoke German. We had an amazing time together. She is the total non-Hailey which is pure comedy because she is just so put together and wonderful and normal. At some point I had to tell her that the Hailey character is fucking nuts and she said 'that's okay, she's not me'. People have come up to her and are like 'so do you guys hate each other'. People think I took a lot more from truth than I did.
HSM: What do you like about your book?
Everyone is kind of awful and everyone is kind of great and everyone gets what they want – which I really wanted! All of these women who are doing terrible things that they shouldn't and abusing each other in ways that are just wrong.
Things in general go terribly wrong but in the end I am very excited for all of them.
HSM: So everyone is excited that this is going to get turned into a TV show!
Yes, I am working with Alexa Karolinski who did Unorthodox. So she is adapting it. The process to find a streamer is quite complicated and frankly weird. The characters do not feel done because of that. They were dead, but now that they are back, they need way more backstory. I keep going back to 2009 and that feels very archeological.
HSM: Are you going to stay in Berlin?
I had this whole fucked up fantasy of moving to Hollywood because last winter broke me. Just the long covid, running a bar, post everything…so I went to LA, and I thought I was moving there. But after two weeks I realized I really like the social safety net. All of the problems of humanity are extended two-fold in America: the water crisis, the unhoused, class disparity. I was like, oh, you have to have blinders on in order to live there. So I was like take me home to Schöneberg.
But now I am moving back to Kottbusser Damm. Back to where I started, on Schönleinstrasse. I lived in an actual closet that cost 50 bucks and had no windows back then. That is very funny for me to go back there.

I am like a medieval cartoon right now. I run the bar, I live above the bar, my life is this place. I really love forms. I love a thriller novel and I wanted to learn how to write one. I am not a theatre person, but I wanted to open a theatre, so I did. Germans were super pissed because we called it New Theatre. 'Are you saying our theatre is old?' Well, it was new to us. I really believe in this commitment to form. Our projects take like 3-5 years because we literally learn how to do it while we are doing it. I think this creates this sort of intensity.
My shit is really chopped. Sometimes I feel myself spinning out of control but at the same time I like that I am like 'we are doing this now'. When I am by myself I write. There are lines and divisions that show up that I think are really important for me to stay sane.
HSM: How do you write then?
It is like the most disgusting craft ever. I always thought it was kind of intelligent but I a just in my house in my bed on my laptop. I can write anywhere. On my phone, on the train, anywhere. I don't care about it as a craft. I don't need to sit at the lake house.
I like to listen to movie soundtracks when I write. Especially The Social Network. There are so many Highs, Ups and Downs.
HSM: I have said it four times now but I love your book. It is exactly my speed. Boring German novels are not great just because they are long and complicated.
I feel the same way about German theatre. But maybe it is more forgivable with theatre because you still have the experience. My book may have come out of my frustration with this in the end. Bad theatre is better than bad literature.
HSM: Yes.
Even if it is bad, at least you are enraged. That is why I love German theatre though. I call it the cultural dentist, even if it bad, everyone goes. In America, that doesn't happen. Of course it is class based here, too, but participation in culture is much wider.
I believe theatre belongs to the young. I love going to the theatre that is made by younger people. German theatre has this thing where you get hired and then you stay there for the rest of your life so sometimes it is hard to make huge leaps.
But that's what I love. Even as an author I was shocked by the insane seriousness of the author portrait. I wanted a campy picture! High camp! I am also interested in what does it mean to be a thriller author. There is a type of camp to all of that I'm into. And with the writing I let myself lean into the camp.
Calla, stay campy. Thank you.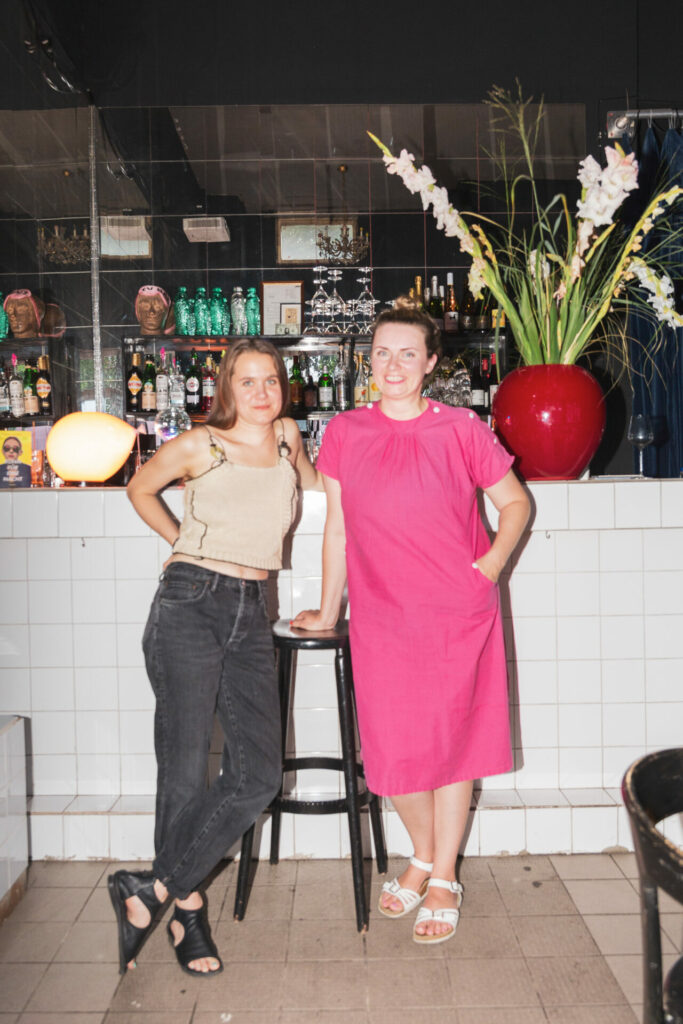 Alle Fotos: ©KaiSenf
Auch interessant:
Yasmine M'Barek: "Am Ende ist das Internet auch einfach relativ egal"
Streetstyle Ana: "Mein Stil? 3 Größen zu groß!"
Annabelle: "Am liebsten trage ich Teile meiner Vintage Sammlung"
Lest dieses Monopol Interview mit ihr und Max, über ihr Verständnis der Bar als Bühne.